How to install MaxScore.
1. Start
Uninstall any previous version of MaxScore you may have already installed. The uninstaller resides in [your_Max_folder]/Uninstallers/MaxScore.
Important info for Max 8 users: If your old MaxScore package was automatically copied to the Max 8 packages folder, please remove it before installing MaxScore 1.0 and higher.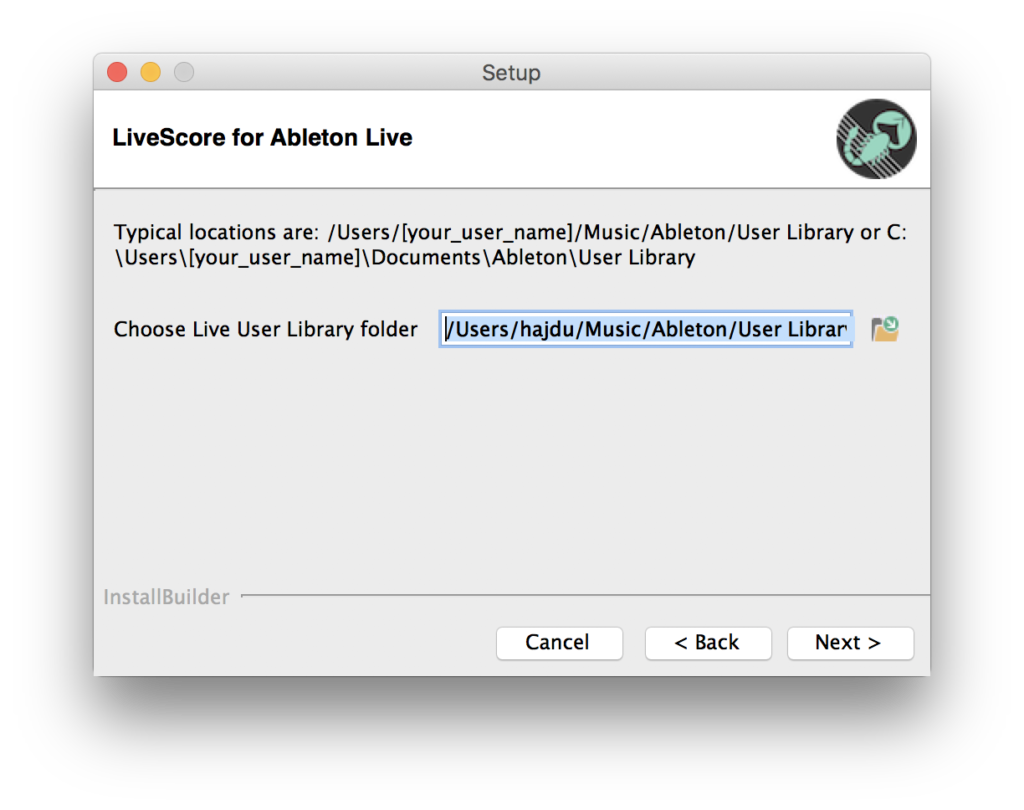 On the next window, click on the folder icon and navigate to the location of Max folder you want to install MaxScore into. Max 7 and Live 9:
The best choice for your MaxScore installation is /Users/[your_home_folder]/Documents/Max 7/ (macOS) or C:Users[your_user_name]DocumentsMax 7 (Windows).
Max 8 and Live 10:
The best choice for your MaxScore installation is /Users/[your_home_folder]/Documents/Max 8/ (macOS) or C:Users[your_user_name]DocumentsMax 8 (Windows).
Refer to the Max documentation if you choose to install MaxScore into another Max 7 or Max 8 folder besides the one indicated above. DO NOT create your own Max 7 or Max 8 folders as Max or Live may not be able to find the files if those folders have not been created by the applications themselves when they were first opened.
2. Location of installed files
puts files into
-Max resources into a folder called MaxScore in [path_to_Max_folder]>Packages.
-Ableton Live files into a folder called LiveScore in [path_to_Ableton_folder]>User Library.
3. Authorization of MaxScore
MaxScore and LiveScore no longer need a license! Thanks to the Innovative Hochschule grant from the federal ministry of education and research (BMBF), administered by Hochschule für Musik und Theater Hamburg.
We will post new versions annually that time-out on Sept 1 of each year. We will provide new builds in advance of that so that you can continue to use MaxScore by reinstalling these new builds. But you do NOT need to purchase a license.
Why do we still offer a LiveScore license? Because you may not want to deal with installing a new build every year. Or you might have a piece that is mission critical enough that you want to commit it to a "version freeze." Or you may want to ensure that MaxScore continues to work independently of our reliance on an annual grant renewal. You may have other reasons. However, you no long have to purchase license to use MaxScore and/or LiveScore!
Authorize MaxScore once you're done with the installation process. For this, use your old JMSL license or request a new license from www.algomusic.com (the macOS installer will take you there at the end of the installation).
Once you've received your license file (a short text file with the .lic extension), locate the file named JMSL_License_installer.jar in the following location inside your Max directory: Packages/MaxScore/License_installer/.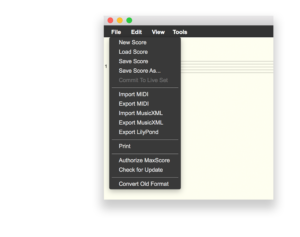 Double click that file and a window will open showing a gray rectangle and instructions to drag your JMSL.lic file into it. This will install your JMSL license. Alternatively open MaxScore Combo from MaxScore Overview (which you'll find in the Max Extras menu) or the Max New From Template menu, click on Open Editor and open the JMSL License Installer by choosing Authorize MaxScore from the editor's File menu.
There is no need to install additional software such as the current JMSL release. Once you're done either open Max and choose MaxScore Template or MaxScore Combo from the Max File New From Template menu or open the set LiveScore Demo.als in Ableton Live.
4. Sounds
The MaxScore/LiveScore Fluidsynth and Sampler components come with default sounds, but may require more sounds for playback.
This page will help you to get you started.
5. Additional Downloads
If you want to use the DJster Autobus – Scorepion, a generative plugin capable generating musical structures according to rules that Clarence Barlow implemented in his AUTOBUSK software, you will need to download additional resources from djster.georghajdu.de. The download also contains DJster versions for Ableton Live and Quintet.net.
Go to djster.georghajdu.de
6. Checking your Installation
We have created a Live device which is capable of checking the three most common reasons why the installation of MaxScore might have failed. Refer to this page for further instructions as to how to use this device.
LINK FOLGT